Andalucia Raises Funds and Awareness at their 2011 Fundraising Gala
From the Andalucia Center Blog
August 27, 2011
http://www.andaluciacenter.org/profiles/blogs/andalucia-raises-funds-and-awareness-at-their-2011-fundraising-ga
In efforts to raise awareness and support for its groundbreaking project, the Andalucia Center and IslamInSpanish hosted a Fundraising Gala on August 17th. Entitled "Serving Humanity in the Multimedia Age", the Gala affair featured various figures that spoke openhearted about the impact the Center has made so far in the community and its need to be recognized as a headquarters of using media to promote social change.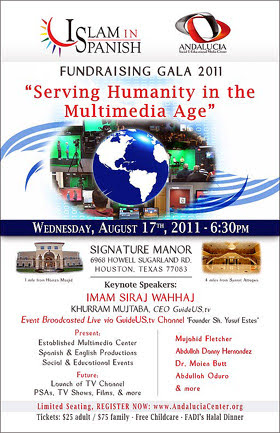 An assortment of videos played which not only highlighted the targeted demographics that the center caters to–Youth, Women, New Muslims, Latinos and the General Society–but it also put on display the capabilities the center has to offer. For one, the KnewU Program was presented in a lively informercial format. A dramatic short film was screened featuring youth who participated in the Media Summer Camp in June and IslamInSpanish's efforts were highlighted in a interesting newscast.
The Fundraiser was a sellout at Signature Manor, the beautiful and spacious ballroom which hosted the event. The nights festivities were capped off with Keynote Speakers Khurram Mujtaba, CEO of Guide US TV and creator of Islambox.com, urging the guests to believe and get behind the center and the concept of using multimedia to raise the status of the Muslim community in the mainstream. Imam Siraj Wahhaj also had a touching speech and gave a fine endorsement for the Center being a platform for the people to let their voices be heard and their ideas come to life.
Other notable items were a special art auction that took place where Houston artists put on display unique pieces in efforts to raise funds for the Center.
All in all, the gala was a memorable affair that created a buzz in the community and caused people to take notice of the Andalucia Center as a valuable resource designed to Make Media Social.
Related Links:
IslamInSpanish/Andalucia Fundraising Gala 2011 Promo Video
http://www.youtube.com/watch?v=V22fvGzGevs
Andalucia Social and Educational Media Center
http://www.AndaluciaCenter.org